If you are interested in understanding learning theory and how learning takes place, then this course is for you! There are many theories of learning each offering insights into the way we receive, process and retain information during the learning process. Every child is unique so the way they learn (or like to learn) will vary too. Understanding learning theory will help you identify and deploy the most effective strategies to help a child accelerate their learning and achieve their full potential.
This course looks at several useful learning theories and explores what they have in common and how they can inform your classroom or home-schooling practices. You will also consider the most effective strategies and approaches to support the needs of a child or young person with a special educational need and disability (SEND).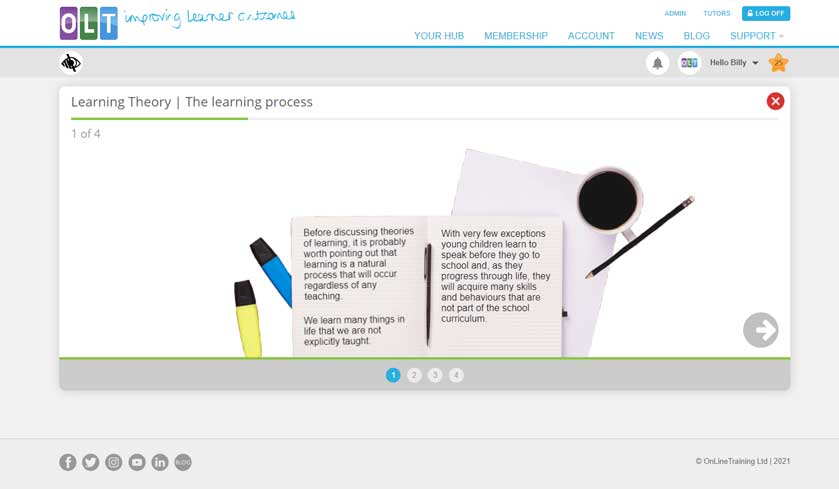 This self-paced and self-directed short course takes approximately 5 hours to complete. At the end of the course, you have the option of gaining a certificate of achievement when you have accomplished 70% or more in our end of course quiz.
Designed for education professionals and teaching support staff, who are new to their role and want to deepen their teaching practice, this short course can also support the information needs of anyone working with children or young people in the community, including parents and carers, home-schooling teachers and study support tutors.
This is an introductory course, which doesn't include content on targeted assessment techniques or intervention strategies. These areas are covered in more detail on our Learning Strategies course. We encourage you to progress onto this course by offering a 10% discount on one course place. So, why not invest in your skills and continue your learning with OLT?
Course learning outcomes
On successful completion of the course, you will be able to:
explore useful learning theories and identify what they have in common
reflect on the limitations and major criticisms of these learning theories
explain how an understanding of learning theory can inform classroom practice
adapt your teaching and learning practices to support a child with special educational needs
develop and deliver more inclusive learning strategies
Theories of learning
The learning process
Special educational needs
Learning theories
Blooms Taxonomy
Behaviourism: Classical conditioning
Behaviourism: Operant conditioning
Behaviourism: Social learning theory
Cognitive theories: Piaget
Cognitive theories: Bruner
Cognitive theories: Vygotsky
Cognitive theories: Information processing
Cognitive theories: Fitts and Posner
Humanism
About this course
---
---
Create an account
Start your learning journey by creating an account and gain access to our free courses and webinars.
Create account / Log in
---
Certification
Certificate of Completion
---


Become a Delivery Partner

Are you a school or local authority looking for educational content to train large teams?

OLT has a range of partnering options to suit your organisation's CPD needs and budget. Contact us to find out more.

Contact us
---


Newsletter

Sign up for our regular newsletter to get updates on our free webinars, new courses and topical content on OLT.

Newsletter sign-up
---
Share this course